Demopolis Institute data – FDI at 29, +3 compared to Politics results. 5 stars is the first tracker thanks to a gradual rise over the past few weeks, while the Democrats have spiked around 16.
Two months after the election, the race began Brothers of Italy. Prime Minister's Party Georgia Meloni click share 29 percent. What has changed, meanwhile, is that the first tracker is now M5s, gradually increasing from 25 September. This is the synthesis interview from Demopolis one month after the oath Quirinal. To date, according to Demopolis, 42 percent of Italians have a positive view of the first 30 days of Meloni's rule. Higher (al 48 percent), which has been growing in recent weeks, is the confidence in the prime minister: the positive opinion of Italians about the prime minister is 6 points higher than the general assessment of the executive branch, which underlines the personal factor of the leader of the Brothers of Italy.
It also influences voting intentions. FDI first political force widely confirmed 29 percent (+3 compared to Policies), followed by M5s at 17.4 (an increase of almost 2 points). Demopolis also recorded a collapse in Pd, which is positioned in third place with a 16.5 share of preferences, which is the result of a drop of more than 2 points. More or less stable league (8.7) and Action Italy Viva (7.6), giving almost one point Come on Italy (this is on 7.3). Floats just above 3Union of Left and Greens. As for coalitions, the centre-right has no opponents: the centre-left, M5 and the centrist pole would have a chance (from a purely arithmetical point of view) only if they united, a circumstance more than distant.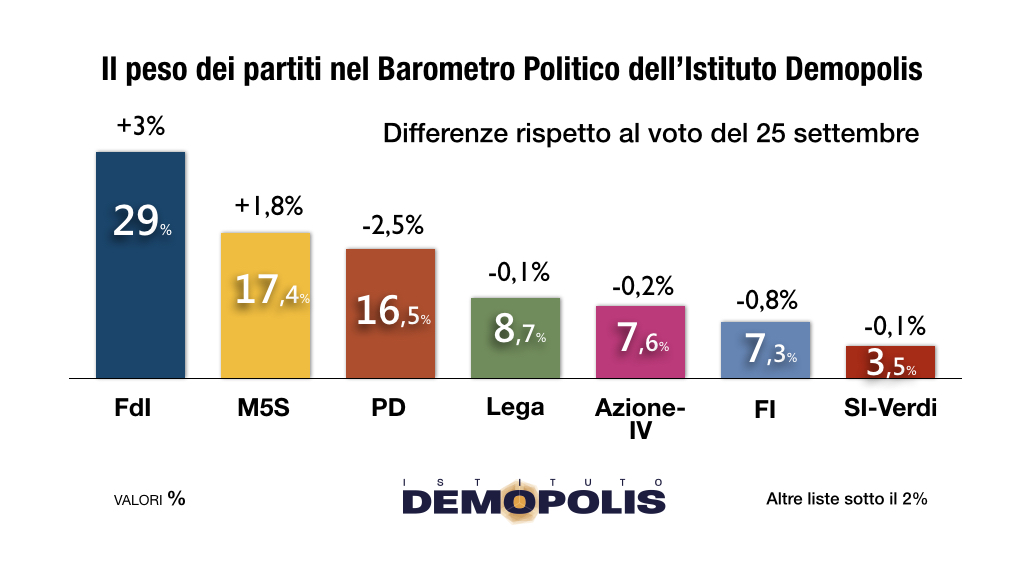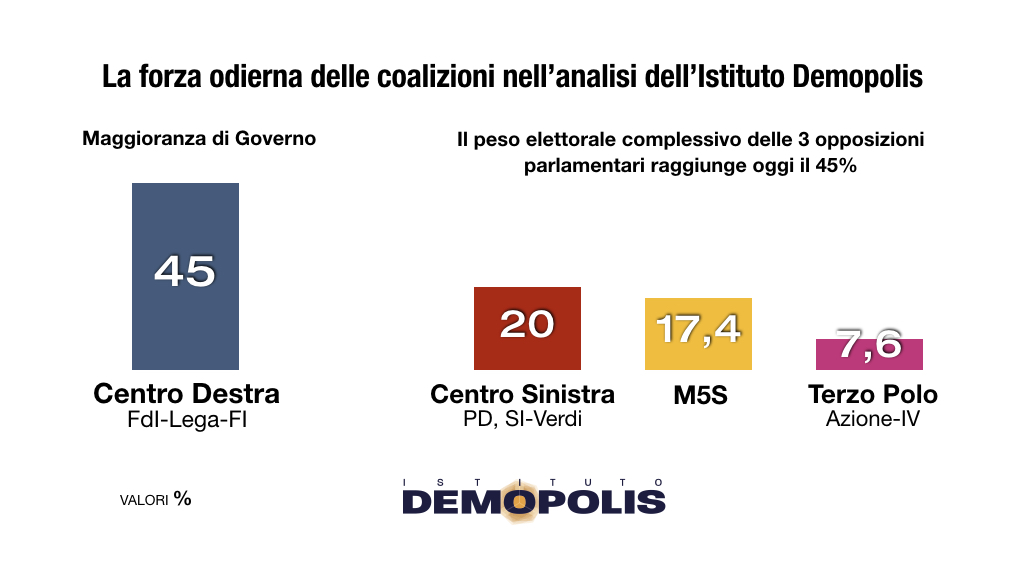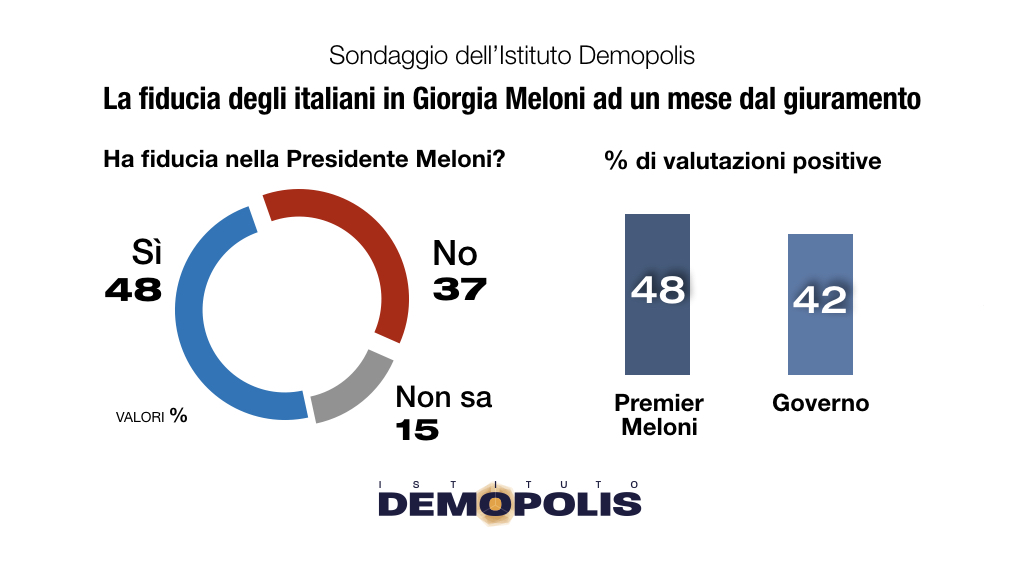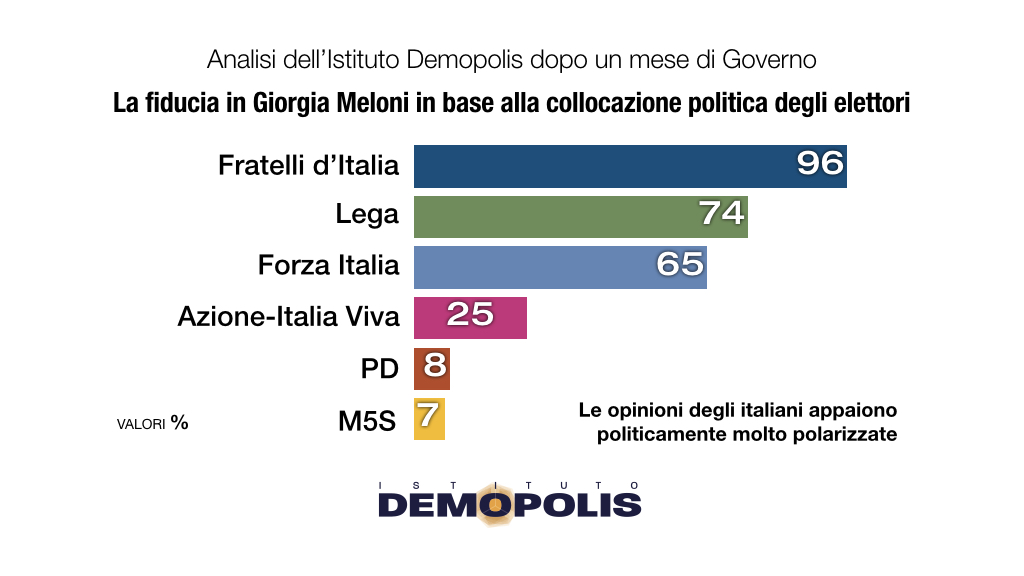 one

/four

Demopolis_barometer_1_month_Meloni.004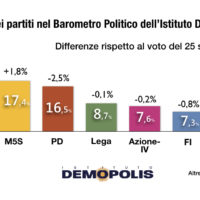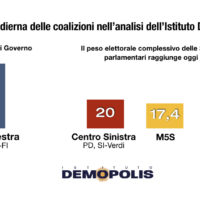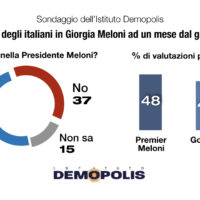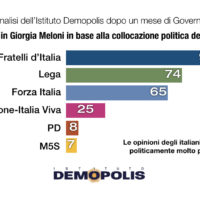 ***
information note | The analysis was conducted from 21 to 22 November on a national sample of 2,000 respondents, statistically representative of the Italian adult population, stratified by geographic area of ​​residence, gender and age range. Oversight of the survey by Marco E. Tabacchi. Coordination of the Demopolis Political Barometer by Pietro Vento in collaboration with Giusi Montalbano and Maria Sabrina Titone. Information and methodology at: www.demopolis.it
Source: II Fatto Quotidiano