At least five people died today as a result of a massive fire in a two-story warehouse in central Moscow. One person is still missing, RIA Novosti and TASS reported, citing the emergency service. The fire spread to an area of ​​2500 square meters.
According to the Ministry of Emergency Situations, a warehouse caught fire on Komsomolskaya Square near three railway stations. from where trains depart to major cities in Russia, including St. Petersburg, Kazan and Vladivostok. According to the Ministry of Transport, rail traffic was not disrupted.
The fire started in a two-story warehouse about an hour after noon CET. in two hours the flames engulfed 2500 square meters. According to the TASS agency, the building houses warehouses for furniture, lighting and flowers.
According to RIA Novosti, the open fire was extinguished around 19:00 Moscow time. Seven people needed to be evacuated.
80 rescuers, three helicopters and a train with firefighters were called to help. Thick black smoke rose from the place, the amount of vapors in the air was recorded in the laboratory. According to RIA Novosti, no illegal amount of harmful substances was found.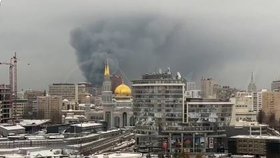 Source: Blesk