An earthquake of magnitude 5.6 that hit the Indonesian province of West Java today killed 56 people. This was stated by a representative of the local government, quoted by Reuters. More than 700 are already wounded. Earlier it was reported about two dozen victims and 300 wounded. The first photos from international agencies show that there are many children among the victims.
Tremors were also felt in the capital Jakarta, where people ran out of offices. when they felt buildings shake and saw furniture move. According to experts, there is no danger of a tsunami. News from the place of tremors is still fragmentary, and the balance may continue to grow. The epicenter of the earthquake was located on the mainland of West Java at a depth of ten kilometers.
Agencies have brought the first photos from the crash site, and there are also several children in the ruins on the island of Java.
Made up of 17,000 islands and islets, Indonesia sits at the junction of three major tectonic plates and earthquakes are frequent in the area. In January 2021, an earthquake of magnitude 6.2 on the island of Sulawesi claimed more than a hundred lives.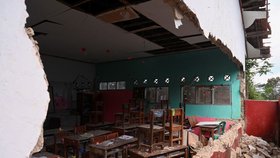 Source: Blesk