Two wives of former Islamic State (ISIS) fighters were repatriated from Syria to Spain on Monday evening. These two Spaniards, who returned to their homeland with 13 children, are suspected of collaborating with a terrorist organization, for which they face up to five years in prison. The women claim that they are innocent and that they went to their husbands without knowing which organization they belonged to. They also defend themselves by saying that they did not take part in hostilities or terrorist attacks, Spanish media reported.
Yolanda Martinez arrived from Syria with her four children, while her husband remains in a Syrian prison. Luna Fernandez, who arrived with nine children, is a widow whose husband, an ISIS member, died fighting in Syria. Both women are currently in custody and are expected to appear on Wednesday in Madrid before a court that deals with serious crimes such as terrorism. Their children have been taken by social services and may in the future be placed in the care of the families of these two Spaniards, who have been fighting a legal and media battle for the return of their relatives from Syria for three years.
The two women, whom the United States helped the Spanish government to repatriate, were still in Camp Ruj in northeastern Syria, which, like the other al-Hul camp, is run by the Syrian Kurdish militia. Both now house about 56,000 people, the vast majority of whom are women and children of former ISIS fighters. About half of them are Iraqis, as well as about 18,000 Syrians, several thousand of whom have second citizenship. There are also many citizens of European countries living there.
Western countries have long refused to accept their citizens from these camps for security reasons, fearing that adults will not give up radical views and spread them after returning to Europe. Under pressure from the media and humanitarian organizations, the pace of repatriation accelerated and became the highest in the last year. If in 2020 281 people were repatriated, then a year later – 324 people, and last year – more than five hundred people. Last year, most women and children returned from Syria to France (100), more than 50 of them were repatriated to Germany.
ISIS radicals began occupying large areas in Iraq and Syria in 2014 and then forcibly imposed their strict interpretation of Islamic Sharia law on the conquered territories. At one time they controlled almost half of Syria and about a third of Iraq. The civil war in Syria contributed to their expansion. In Iraq, the Islamic State suffered a territorial defeat in 2017, in Syria in March 2019. However, it still has smaller cells in both countries that continue to carry out attacks. Offshoots of IS are also active in other countries, committing murders, for example, in Afghanistan or some African countries.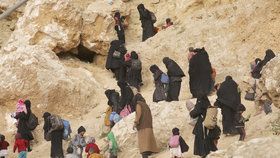 Source: Blesk