Andrew Tate, an American, three-time world kickboxing champion and social media phenomenon, was arrested in Romania along with his brother on December 29 on suspicion of trafficking in women and sexual abuse. It comes a day after Tate tweeted a video imitating Greta Thunberg's messages in which he claims climate concerns are "nonsense." In a publication kickboxer he appears seated at a table, wearing a red robe and smoking a cigar, asserting his manhood.
It would have been another in a series of jokes directed at the 19-year-old Swedish activist if it weren't for images of Tate showing off on a table two pizza boxes that gave rise to rumors of his arrestas they show the name of the restaurant they were ordered from.
Thank you for confirming through your email address that you have a small penis. @GretaThunberg

The world was curious.

And I agree that you should get a life ❤️ https://t.co/mHmiKHjDGH pic.twitter.com/SMisajQRcf

— Andrew Tate (@Cobratate) December 28, 2022
The news of the arrest prompted a statement by American lawyer and activist Alejandra Caraballo, via a post flooding Twitter, in which she stated that there was a name on the pizza boxes that gave away the whereabouts of the suspectwho was already under investigation and wanted by the authorities.
Alejandra Caraballo wrote that the Romanian police "needed proof that Andrew Tate was in the country and so they checked his social media," eventually gaining the lack of confidence thanks to a "ridiculous video" posted by Tate. OUR tweet lawyer became viral and gained about 82 million views, almost 100 thousand reposts and more than half a million Like.
The Romanian authorities needed proof that Andrew Tate was in the country, so they reportedly used his social media posts. His ridiculous video yesterday showed pizza from Romanian pizza chain Jerry's Pizza, confirming he was in the country.

It's absolutely epic. pic.twitter.com/kyz4pqegkJ

— Alejandra Caraballo (@Esqueer_) December 29, 2022
But is this statement true?
Alejandra Caraballo's statement, which was cheered by thousands of social media users, caused alarm in the international press, which tried to confirm whether the pizza boxes really condemned Andrew Tate.
According to the Associated Press, the Romanian prosecutor's office says the allegations are unsubstantiated because the arrest warrant kickboxer was already released when the video was posted: 'No relationship', video shared by suspect 'only confirmed' information about the whereabouts of the Tate, which the Romanian justice already had. The country's prosecutors go even further and add that Andrew Tate has already been under investigation since 2021, and his homes in Bucharest and Ilfov, Romania, were already due for searches last April.
Andrew vs Greta
The quarrel between Andrew Tate and Greta Thunberg began on December 27. influential person The Briton provoked the climate activist with a post in which he talks about his collection of roomy cars and how much he spends on fuel to fill them all: "Hi Greta. I have 33 cars. One Bugatti and two Ferraris. And this is just the beginning. Give me your email address so I can send you the full list and the corresponding carbon emissions.
The post caught Greta's eye quickly, and the activist's response was quick, full of irony, also via a tweet: "Yes, please enlighten me. Send me an email at energiadepé[email protected]."
please enlighten me. email me at [email protected] https://t.co/V8geeVvEvg

— Greta Thunberg (@GretaThunberg) December 28, 2022
Greta denies any involvement in the prison
A day after the arrest of Andrew Tate, the activist reacted on social networks to the one who provoked her more than once because she defends. On Twitter, Greta leaves a message kickboxer: "Here's what happens when you don't recycle pizza boxes." One tweet which already has 3.5 million Like.
According to the Associated Press, after allegations circulating online about how Romanian police found Andrew Tate, the Swedish activist insisted on distancing herself from the episode, saying the exchange between them had nothing to do with the American detention.
Conclusion
Andrew Tate's arrest was not due to the restaurant's address, which was featured on pizza boxes in a video posted to Twitter on Dec. 28. The Romanian authorities already had kickboxer under scrutiny, the Tate property in that country was already known to the police, and a search warrant should already have been issued by the time the video was released.
Thus, according to the Observer classification system, this content is:
WRONG
In the Facebook rating system, this content looks like this:
FALSE: Main content claims are actually inaccurate. This option usually corresponds to "false" or "mostly false" ratings on fact-checking sites.
NOTE: This content has been selected by Observer as part of a fact-checking partnership with Facebook.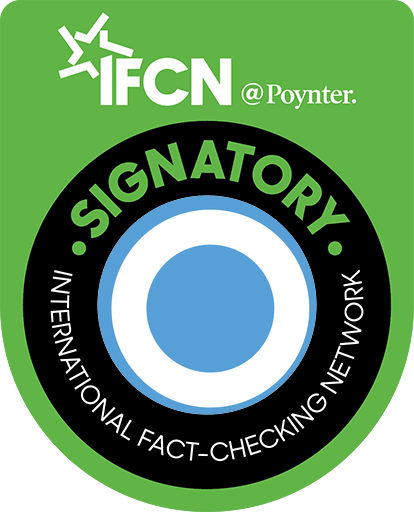 Source: Observador